About Us
About Vaughn Automotive
Vaughn Automotive is a business proud to have been in Ottumwa since 1934. We started selling Chevrolet cars and trucks, adding the Cadillac franchise in 1941. We added the remaining General Motors franchises in 1987. We started a dealership with all the Chrysler franchises in 1985. With this many vehicle lines we are well established to meet your needs and expectations.
We are an honest and sincere group of people who want to make your automotive experience a great one! Whether you purchase a new or used vehicle, visit our collision center, service or parts department, our goal is to meet and exceed your expectations.
We intend on working hard to gain and maintain your trust and respect. Our customers are the reason our business exists and your complete satisfaction is what is most important to us.
We know you have other choices and we would like to say thank you for choosing Vaughn Automotive.
Wally R. VanNess
We are here to meet and exceed your expectations. We desire to be your dealership of choice for all your automotive needs. We are proud to have been a part of this community for so many years. Whenever you think about automotive needs, please visit us in person or on our website. We strive to make all your automotive experiences, great ones! If you have comments or concerns feel free to contact me.
Leon E. Vaughn
I am proud to have grownup in Ottumwa and been able to do business with so many wonderful people in the Southeast Iowa area. I have made many lifelong friends in this business. I am proud that this business is preparing for the fourth generation of leadership in this community. We look forward to many more years of serving all your automotive needs for generations to come.
Irvin E. Vaughn
Irvin E. Vaughn had a philosophy of selling cars at high volume, at a modest profit and then standing behind the product with "exceptional service". Irvin established Vaughn Chevrolet in Ottumwa in 1934. He had four dealerships in and around Mitchell County, Iowa previous to that time, but the depression changed the course of history. Moving his family to Ottumwa in 1934 was the beginning of a long business relationship with the people of Ottumwa and the surrounding area.
Irvin Vaughn had the first auto transport in Iowa. This photograph shows him standing in front of his dealership in Osage, Iowa with a load of Chevrolets.
Irvin E. Vaughn became a Chevrolet Dealer at Osage, Iowa in 1927. This is a photograph of his wrecker.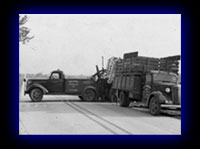 Vaughn Chevrolet was established in Ottumwa in 1934. This is a photograph of our wrecker in use near Ottumwa.
Chevrolet Truck outside Vaughn Chevrolet
Vaughn Chevrolet in Ottumwa 1930's
Inside showroom 1941
We have used Leon's English Springer Spaniel dogs, especially Hoover and Reggie, in many advertisements in the past. With all the comments we receive, we decided to put a picture of them here.